Hand Painted Decorative Botanical Flower with Bee Garden Cottage Pillow
Garden Flower Botanical pillow painted cottage is hand painted shabby chic farmhouse home decor with pink coneflower, thistle, grass and a bee.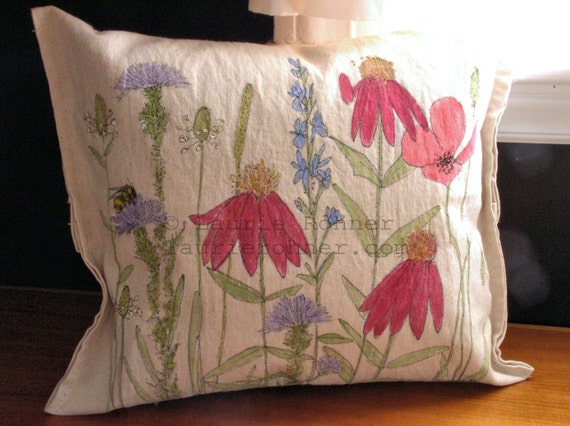 Cottage Hand Painted Pillows from Between The Weeds Etsy Shop
Made from cotton canvas is hand painted one of a kind original. Functional nature art for bed or to accent any chair in a cottage, farmhouse or lover of flowers home. The front find a bee on a blue thistle, pink coneflowers among the wildflowers and grass. The back is accented with a few more flowers.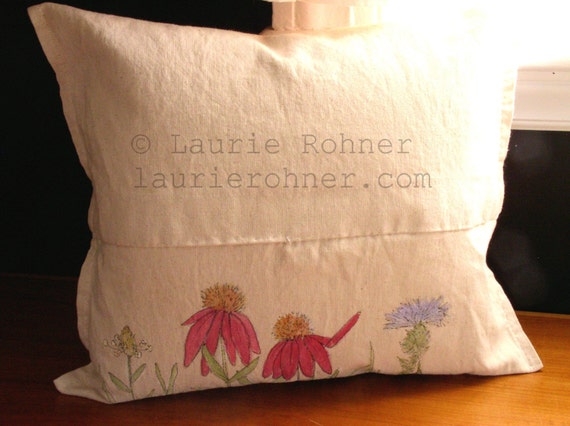 Cottage Painted Pillow with Flowers an Bee
Material used medium weight cotton canvas.
Acrylic paints and ink are heat set so you can keep the pillow clean by spot cleaning
Pillow size: 13 x 15 inch
Pillow is stuffed with clean allergy free fiber filler.
Pillow is hand sewn closed with the sides machined closed.
All work shown in my shop are my original designs. I hand paint each piece sign and date. They are not stenciled transferred or printed in anyway. All my functional art is copyrighted so please be kind and do not copy.
For more about my work visit
Painted Furniture Studio
Laurie Rohner Studio