Garden botanical inspired gift ideas for the unique individuals.
There is so much going on during the summertime months and looking for that unusual classic fabulous gift can put a damper on the fun. I thought I could help. Here are some one of a kind great gifts you can buy for garden lovers, garden wedding celebrations and those awesome summer birthday parties.
First how about a magical whimsical woodland fairy house?

Garden fairy house is a custom made woodland cottage enchanted with moss fern twigs and branches. Hand sculpted woodland fairy house for a garden or cottage. My woodland garden fairy house comes furnished with custom fairy sized woodland furniture.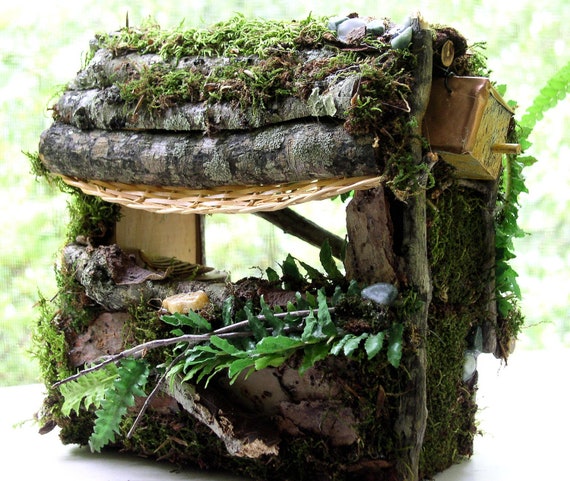 Woodland Fairy House by Between The Weeds.
Once upon a time fairies created this fairy house for your garden or cottage. Woodland Fairies were delighted with what the fairies created. Think of the happy joyful energy that will surround your home and your life when you add this fairy cottage to your house.

Moss, ferns, bark and branches make up the structure but you also get a bench or settee with a side table. On the outside is a bird house tucked into the crest of the house and on the other side is moss and bark. You also find a wicker awning. There are stones, shells, pebbles, lichen and clear globes for the fairies to light with their magic. This cottage fairy house is ready for your touches to make it very special and personal. Delight for all ages.
Note: All my houses are blessed by a fairy.

Measures: 10"w x 9.5"h x 7.5"d.
Weighs: 3lbs

Words from another fairy house owner:
Beautiful fairy house! The packaging was lovely, thanks a lot!
Second what about a gorgeous keepsake painted nature box personalized at no charge for a bride or special person that is in your life?
My boxes are sturdy custom made and hand painted.
Painted storage nature boxes custom made painted furniture with botanical garden flowers herbs and woodland wildflowers. One of a kind hand crafted wooden keepsake storage nature box makes a beautiful gift for birthdays weddings and new homes.
I painted the top with an assortment of botanical garden flowers mixed with herbs and wildflowers and on the front side are a few freshly picked flowers and blackberries painted giving a feeling they are spilling off the side.

A beautiful one of a kind addition to upscale farmhouse cottage loft decor by adding a bit of whimsical decorative painting.

Palette: Clear sky blue, raspberry pink, leaf green, deep blue, lavender, dark green, golden orange, pink, white, cream, yellow.

Dimensions: 11" x 9.5" x 5"
Box is hinged.
Box is sealed with lacquer and waxed.
Some lovely words about their fabulous boxes.
*Prompt service, beautifully and professionally packaged. Gorgeous box, love it!!!!
*I love your shop and I will come back often to see new products.
*I absolutely love this box and Laurie personalized it for me. Shipped quickly and safely and looks gorgeous. Thank you!
Last I have a vintage re-purposed frame I made into a wonderful contemporary tray to serve the martinis and cocktails on the deck during the evening hours. I love trays and this one is a fabulous watercolor painting on wood. Do not worry it is sealed and will stand up to everything you place on it.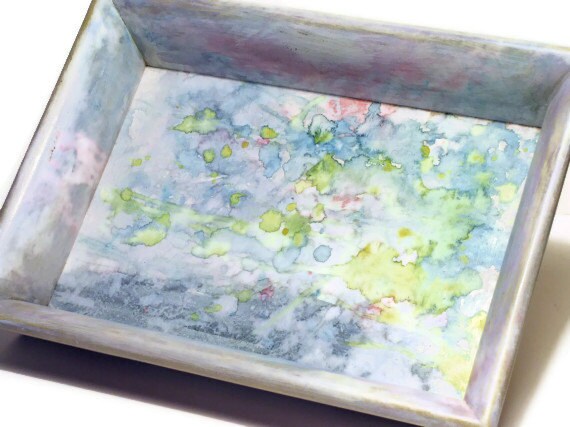 A painted wooden serving tray re-purposed from vintage frame painted with watercolor and sealed with several coats of lacquer to protect. I painted a contemporary watercolor abstract in the tray titled Nebula. The bottom is covered with a real cork sheet to protect any surface. This is farmhouse cottage chic gone modern.

Turquoise, deep pinks, navy tinge of green and chartreuse splattered across the surface of abstract functional art titled Nebula.
Bottom is covered in cork.
Measures: 15" x 11.25" x 2.75"
Tray surface: 12.5" x 8.25"
Another serving tray I handmade and hand painted with a wildflower garden bouquet makes the perfect farmhouse cottage chic gift that is if the vintage is not to your liking.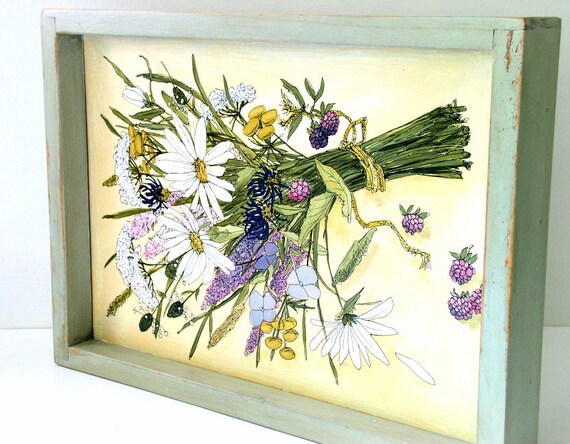 Painted Wooden Serving Tray
Painted botanical farmhouse furniture for shabby chic cottages, a distressed sturdy tray with woodland garden flowers tied in a bouquet painted across the surface is inspired by nature. Sturdy handmade wooden serving tray is hand painted and custom crafted by my hand.

I painted a hand tied bouquet of woodland wildflowers lying across the tea stained surface. Great to use all year long to welcomed your guests or family. The sides are a soft blue green verdigris and are slightly worn to give the tray a time worn look.

Color Palette: soft verdigris, tea stained cream, golden yellow, leaf green,purple, light blue, raspberry, white and lavender.

Overall:16.25"l x 11.75"w x 2"d
Weighs: 3.3 lbs.

Hand crafted in poplar and pine with a custom finish distressed verdigris and sealed with several coats of lacquer so it will take a beating. Then waxed.

I really think you can not have enough trays and I display them around the house.
Customize the tray by adding a name and date for a special keepsake to mark a wedding birthday anniversary or house warming (no additional charge just a little time).